Departmental Inquiry into Financial Irregularities Results in Firing of Officer Keisha Richburg
The Atlanta Police Department released edited portions of a body cam video, worn by Officer Keisha Richburg during her days with the Department. Officer Richburg was fired on July 08, 2019 following an investigation that revealed she'd mishandled money from a homicide victim, and then lied about it.
According to a police spokesperson, Atlanta Police Chief Erika Shields terminated Richburg's employment with the department on this Monday. The video is part of an investigation into Officer Keisha Richburg which shows irregularities in the handling of cash that bystanders found on Jamel Harris' body in June.
Atlanta PD also released its Office of Professional Standards investigative file into the complaint. It concludes that Richburg violated the department's recovered property, truthfulness and appropriate action as per the rules.
The Sordid Saga of Richburg's Homicide Victim
Officer Richburg's life was about to change when she, along with her peers, responded to a shooting at Marietta Road near Inman Rail Yard on June 19.
On arriving they found a gunshot victim, Jamel Haris, who was taken to Grady Memorial Hospital by first responders, where he later died from his injuries. 
Atlanta Police Officer Keisha Richburg has been terminated by Chief Erika Shields following an accusation of taking $500 from a deceased victim.
In the images shared by Atlanta PD, an EMT at the scene can be seen tucking in the contents of Harris' wallet before handing it off to officer Richburg, along with a cellphone. During the internal investigation, Grady EMT Kevin Geter confirmed that he gave Officer Richburg the wallet and it clearly had cash inside it.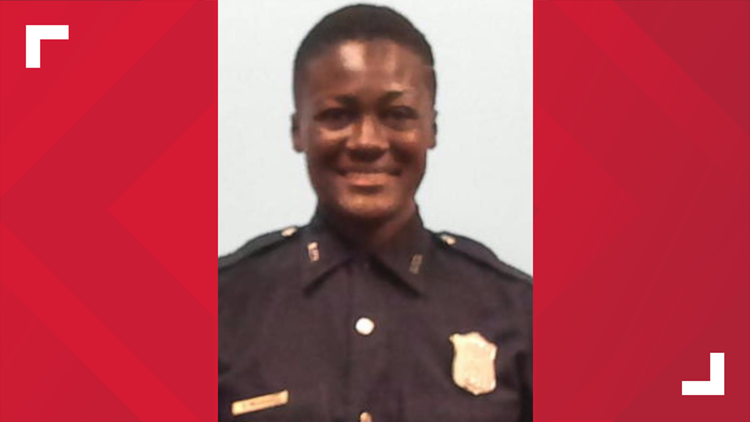 "I'm about 90% sure it was money," Geter said in the transcript. "Um, 'cause it was – it was kinda like a – you know, like money would be folded in half. Um, and I can't imagine it being anything else."


"Who handed you the bundle you described?" one of the investigators asked Geter.

"No one handed it to me. I believe it was one of the bystanders that was, you know, tryin' to be helpful and had like, gathered it," Geter said.

"Um, and then admittedly, I — I shouldn't have been messin' with it, because it was a crime scene, but it was just habit from not leaving patient's monies and stuff, so I just picked it up and then realized what I did, so I handed it off to the officer."

"Do you remember the officer's name you handed it to or can you describe that officer?" an investigator asked.

"I do not. Um, it was a — one of those situations where it was a uniformed APD officer, so that was good enough for me to hand it off to," Geter said. "But I was, you know, focusing on the patient at the time."

Transcript from department's interval investigation
Officer Richburg can be seen getting in and out of her cruiser, with the wallet and the phone, multiple times, all the while leaving the windows down and doors unlocked. When the body cam video shows the wallet again, Richburg is in her car at Grady Memorial Hospital and the money is not there. Inside the hospital, she can be seen passing the wallet off to an APD Homicide Sergeant.
Local news network 11Alive found out about the accusation from a viewer who said she saw Harris after he'd been shot and handed the wallet and money to authorities. They said Harris' wife and the woman connected. That's when they allegedly discovered that the $500 was missing.
The woman posted about it on Facebook and got the attention of investigators, according to official documents. Well, this ends this sordid tale of greed shot in HD by Richburg's body cam; one wonders if it was her first time robbing a victim, was that trepedition of first-time corruption reflected in her manner of getting in and out of her car, before heading to the hospital? On the other hand, perhaps, that was a practiced routine.